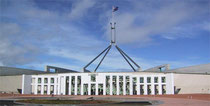 Matthew Halliday MARN 0701626 - GA Consulting 
The Australian federal government has today released details of the much awaited federal budget. With the exception of a few pet projects, the Government has slashed spending for most portfolios including immigration. The government is aiming to create savings of $300 million in the immigration portfolio over the 2014-2015 programme with the majority of funds coming from places previously provided for the family reunion of refugees arriving by ship.
Scott Morrison, the Minister for Immigration and Border Protection, in his first post budget media release has stated that the Abbott government will focus on growing the business visa programmes. These programmes are currently under review owing to the lacklustre performance of the Australia's Significant Investor Visa programme in attracting investment along with the slow processing of existing applications.
According to Minister Morrison, 'The Abbott Government is ensuring our migration programme matches the nation's economic and skills needs while also contributing to a cohesive and strong community'.
In regards to the break down of available migration places, almost 68 percent will be allocated to skilled migration and the government will continue to prioritise employer-sponsored visas. Morrison states: 
'With the reprioritisation towards employer-sponsored visas, employers will be assisted in finding workers to fill vital positions where they have been unable to find local workers..."
No details have yet been released in regards to how the Government will seek to assist employers in finding overseas workers although it is likely that more funds will be spent on promoting the existing option for employers to search for potential employees through the Department's SkillSelect database. Additional changes to the 457 visa programme are also expected this year and these will also likely have an impact on other employment sponsored visa streams. 
There is some good news for family sponsored migrants with 60,885 places allocated to family migration. An increase of 335 places has been allocated towards the partner and children visa categories which should help in shortening visa processing times. Currently, partner visas are taking around 6-9 months to be approved while child visa often take more than 12 months. Contributory parent visas have also been increase by 500 places.
Overall, the direction taken in this budget will likely benefit employer sponsored and family migrants and it will be interesting to see how these priorities will be translated into policy over the fiscal year.