by Matthew Halliday (MARN 0701626), Director GA Consulting Co Ltd
Global Talent Visa - Subclass 858 visa
What is the Global Talent Visa Program?
While many people might be aware of NIW (National Interest Waiver) EB-2 visa in the United States for highly talented people, many people are still unaware that Australia too has its own version of this type of visa called the 'Global Talent Visa Subclass 858' which was introduced just before Covid-19.
The Global Talent Visa Program aims to attract highly talented individuals whether they be industry leaders, researchers or entrepreneurs who have innovative ideas and cutting-edge skills in a number of key industries that are important to driving innovation in the Australian economy and will lead to the creation of jobs for Australians.
The Australian program is of particular interest to many people due to its great lifestyle, tolerant society and cultural diversity, excellent weather and working environment. Being an English speaking country situated in Asia with an outward-looking trade policy and business-friendly regulatory environment, Australia is in an excellent position to commercialise technologies and export its services and products worldwide.
Recognising the importance of talent to the success of its Australian economy, the Australian government is offering permanent residence to talented individuals looking to make the move to Australia. Due to the widespread support for the program, the Department of Home Affairs has allocated 15,000 places for such applicants in 2021-2022. In addition to providing Australian permanent residency, Home Affairs also allocates these visas for fasting processing to ensure applicants can arrive in Australia as soon as possible.
Eligibility requirements
To be invited to apply for a visa under the Global Talent Visa Program, applicants must be highly talented in at least 1 of 10 target industry sectors and able to attract a salary that meets 'the high income threshold'.
The Department of Home Affairs is targeting senior executives, highly skilled professionals, researchers and exceptional individuals who are leading innovation in their respective fields. The ten target industry sectors and types of individuals preferred are as follows:
A. Target Industry Sectors
Applicants are expected to be working in one of the following 10 priority sectors:
Resource industry
Target candidates: CEOS of mining corporations, executives with experience in mineral development, leading researchers
Agri-food and Agtech
Target candidates: Directors of livestock genetic engineering, post-doctoral researchers in the field of robotics and agricultural automation
Energy industry
Target candidates: Founders of clean technology companies, senior energy transformation specialists, executives with experience in delivering large energy projects
Health Industries
Target candidates: Pharmaceutical company directors, infectious diseases researchers and practitioners, biomedical engineers, neuroscientists
Defence, Advanced Manufacturing and Space Industries
Target candidates: senior technology managers, business directors of companies certifying defence equipment, senior data scientists, nanotechnology researchers, post-doctoral astrophysicists, space policy experts, and space systems engineering experts
Circular Economy
Target candidates: post-doctoral researchers in the fields of metallurgy, circular economy, solar voltaics, metals, engineering in renewable energy, researchers in AI and digital technologies focussing on circular economy
Digitech
Target candidates: Chief information officers, game development company executives, research and experts in software, platforms and games
Infrastructure and tourism
Target candidates: Infrastructure project managers, experts in smart cities, water management and energy transmission and distribution, senior executives in the transport industry, experts in new tourism infrastructure development or international events,
Financial Services and FinTech
Target Candidates: CEOs of digital asset and finance companies, experts in cryptocurrencies, cloud technologies and data security
Education
Target candidates: Senior management of universities, senior academics and researchers, edtech professionals, research commercialisation experts, eLearning experts
Please note that a wide range of people may be eligible for the program so even if you think that you might not be a target candidate if you work in a priority industry and are of above average ability, it would be worth gaining a professional assessment of your eligibility.
B. Talent
Applicants are expected to be exceptionally talented. The key aspects that the Department of Home Affairs looks at to determine this are as follows:
- The applicant is internationally recognised for outstanding achievements
- The applicant is still prominent in their field
- The applicant can show demonstrate that they will be an asset to Australia
- The applicant should be able to demonstrate that they will have no problem securing employment in Australia
- The applicant must be able to gain nomination from a leading organisation or individual in Australia in their field
- The applicant can demonstrate an exceptional track record of success in the following ways:
->Senior roles
->Patents
->Professional awards
->International publications
->Memberships
->Recent PhD graduates with a qualification in a priority industry who have presented their work to an international audience, whose work is of international interest and significance, and will be of value to Australia. A 'recent graduate' is defined as having graduated from a PhD program in the last 3 years.
C. High Income Threshold
Applicants should generally be able to demonstrate a salary of 158,500AUD however various factors that evidence that this salary may be earned in the future in Australia are submittable and a waiver is available for recent graduates.
Final remarks
If you are a leader in one of these priority industries and wish to migrate to Australia, the Global Talent Visa represents an excellent opportunity for you to be able to capitalise on your skills while continuing your work or business in Australia.
It's important to note however that these applications are often very complicated and competitive and as such, we highly recommend that you contact a MARA registered migration agent who can carefully evaluate your chances of successfully being granted this visa and can help you put forward a convincing submission to the Department of Home Affairs to support your visa application.
Having a great deal of experience in this visa category, we are more than equipped to assist you in your application.
Please feel free to contact us for further information.
Contact
Matthew Adam Halliday MARN -0701626 Director, GA CONSULTING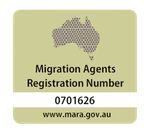 +61 2 2058 1119 (Australia)
+82 2058 1119 (Korea)